My Blog
Posts for: October, 2014
By Dental Perfections, Inc.
October 24, 2014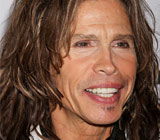 Rock star Steven Tyler fell and broke his two front teeth while on tour with his band Aerosmith not long ago. But Tyler was back on stage the very next day, thanks to modern dental implant technology.
Dental implants are the most optimal tooth replacement system in use today. The reason we say "system" is because replacing teeth with implants involves two, or sometimes three, components: the implant itself, which replaces the root-part of the tooth; the dental crown that sits on top of it to replace the part of the tooth that's visible in the mouth; and a connecting piece placed in between the implant and crown, known as an abutment.
The implant itself, made of titanium, is placed directly into the jawbone with a minor surgical procedure. Titanium has the unique ability to fuse to bone, creating a very strong connection. An implant provides virtually the same function as a natural tooth root, including stabilizing the bone underneath and preventing its loss — something that naturally occurs when a tooth is lost.
This fusion process takes a period of weeks, which is why the implant needs time to heal before a permanent crown is attached. One reason for early implant failure is "loading" them with biting forces too soon. But in experienced hands, implants are extremely successful. Documented research and clinical studies indicate success rates of over 95% — which is higher than any other tooth replacement option. Once integrated and functional, implants can last a lifetime. That's why, though they are a bit more expensive initially than other tooth-replacement options, they are more cost-effective in the long term.
Of course, another advantage of implants is that they look and feel completely natural. Just ask Steven Tyler!
If you would like more information about dental implants, please contact us or schedule an appointment for a consultation. You can also learn more by reading the Dear Doctor magazine article "Dental Implants." Dear Doctor also has more on "The Hidden Consequences of Losing Teeth."
By Dental Perfections, Inc.
October 09, 2014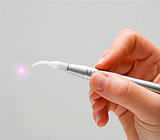 Without effective treatment, periodontal (gum) disease can eventually lead to tooth loss. That's why it's imperative to remove bacterial plaque and calculus — the main cause of the disease — from all teeth and gum surfaces. For moderate to advanced gum disease, this could require a procedure known as flap surgery to gain access to deeper infected areas.
This type of procedure involves making scalpel incisions into the gum tissue to create a flap opening. Through this opening we're able to gain access to the deeper pockets that have formed because of the tissue detachment that occurs following bone loss. The flap opening allows for better access to the root surfaces for removal of plaque and calculus (tartar). Once we've finished, we then suture the flap back into place to reduce the pockets and allow the area to heal.
While effective, flap surgery is considered moderately invasive and may produce mild post-procedural discomfort. Recently, however, a specially designed laser for periodontal therapy shows promise of less invasiveness and patient discomfort than traditional flap surgery.
A laser is an intense and narrow beam of light of a single wavelength. A periodontal laser can pass without effect through healthy cell tissue (like sunlight through a window pane) but interacts and "vaporizes" the darkly pigmented bacteria in diseased tissue. The laser energy is delivered in pulses to minimize any heat-related damage to healthy cells.
The periodontal laser can precisely remove diseased tissue, even where it mingles with healthy tissue. Once it's removed, the root surfaces can be cleaned with ultrasonic scalers and/or hand instruments. And because a medical laser seals the tissue it cuts, it doesn't produce open incisions as with flap surgery that require suturing afterward.
Studies of post-operative recovery after laser surgery showed similar infection reduction and renewed bone and tissue growth as with traditional surgery. Patients, however, reported much less discomfort after the laser procedure. Although more research is needed, it initially appears periodontal laser treatments can effectively treat gum disease with minimal interference with healthy tissue and greater comfort for patients.
If you would like more information on the use of lasers for the treatment of gum disease, please contact us or schedule an appointment for a consultation.