My Blog
Posts for tag: orthodontics
By Dental Perfections
March 10, 2014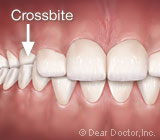 When most people think of orthodontic treatment, they may think of braces worn during the teenage years. But there are some types of malocclusions (bad bites) that may benefit from intervention much earlier than adolescence. A cross-bite is one example.
A cross-bite occurs when the front teeth of the lower arch bite in front of the upper teeth rather than behind them. The condition can have an adverse effect on any of the six front teeth of either arch. This type of malocclusion can develop quite early in childhood.
Orthodontists have developed a two-phase treatment for a cross-bite, with the possibility that the first phase may be all that's needed. If your child has a cross-bite, your orthodontist may first recommend he or she wear a specially-designed retainer for a few months. The retainer could stop and correct an existing problem before it becomes worse, or it could prevent a deeper problem from developing in the first place. The retainer could also help guide jawbone development during these formative years, even as early as age 7, for children at risk.
Even if this first phase doesn't fully correct the cross-bite and the second phase (most likely braces or a similar orthodontic device) becomes necessary, it could still help to make the second phase easier and less costly. On the other hand, if orthodontic treatment is postponed until adolescence when the mouth structures are more fully formed it may become quite difficult or even impossible to correct the problems that have developed.
As a result, early intervention for this or similar orthodontic conditions is the most efficient strategy, even when later treatment is necessary. As part of your child's regular dental care (which should begin ideally around their first birthday), we can advise you on any need for an orthodontic evaluation based on our observations. An orthodontist can then best advise whether waiting until later for treatment is best, or whether intervention now could lessen problems later.
If you would like more information on preventative orthodontics, please contact us or schedule an appointment for a consultation. You can also learn more about this topic by reading the Dear Doctor magazine article "Preventative & Cost Saving Orthodontics."
By Dental Perfections
November 26, 2013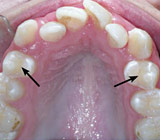 Not only can orthodontic treatment transform your smile, it can also restore function to your teeth and mouth that will improve both your oral and general health. But any treatment to straighten misaligned teeth requires careful planning. Depending on the exact nature of your misalignment, there may be some additional steps we would need to perform before undertaking orthodontic treatment.
One common need is space to help relieve overcrowding. To make room for tooth movement, often a tooth may need to be removed if the crowding is excessive. The most likely candidates are the first bicuspids, teeth located between the cuspids (or eyeteeth, located in line under the eyes) and the second premolar located in front of the molar teeth. The removal of these first premolars won't have a great effect on future form or function. Under the gentle pressure exerted by the braces, neighboring teeth will move and fill in the open space. Today's orthodontist goes to great lengths to avoid removing any teeth; in severe overcrowding, though, this is an acceptable way to create needed space.
Damaged teeth in need of replacement may also be removed before orthodontics and certainly more desirable — if any tooth needed to be removed, you would always choose a damaged tooth first. The object is to first preserve the underlying bone and close the space to avoid replacing that tooth or, if not possible, maintain the correct amount of space for any future restoration.
As living tissue, bone constantly reshapes in response to its environment. If it no longer senses a tooth (or the forces exerted by a tooth when biting or chewing), the bone will slowly disappear through a process known as bone resorption. To counteract this process, we may graft material (like processed donor bone) into the socket to encourage and maintain bone growth. This creates a platform for future tooth replacements like implants or bridgework after orthodontic treatment.
After orthodontics, it may also be necessary to install some type of "placeholder" (temporary bridgework or partial denture) in the area of missing teeth. Keeping the teeth from migrating into the space will improve the chances that any permanent restoration like an implant or fixed bridgework will look natural — as if it belonged there the entire time.
A complete dental examination will indicate whether any teeth need to be removed before undergoing orthodontic treatment. If necessary, taking this strategic step will help ensure we achieve the best result — a winning smile.
If you would like more information on tooth removal and other options to enhance orthodontics, please contact us or schedule an appointment for a consultation. You can also learn more about this topic by reading the Dear Doctor magazine article "Tooth Removal for Orthodontic Reasons."