My Blog
Posts for tag: crown
By Dental Perfections
July 17, 2014
The preferred outcome when treating a tooth for decay is to preserve it. If the disease is still in its early stages, we can accomplish this effectively by removing diseased tissue and then restoring the remaining tooth with filling material.
There comes a point, however, when filling a tooth isn't the best option. If it has already received several fillings, the tooth may have become too weak to receive another. Additionally, a filling may not be enough protection from further fracture or infection for teeth weakened from trauma or abnormal tooth wear or in the event a root canal treatment is necessary.
While a diseased tooth can be extracted and replaced with a durable and aesthetically pleasing dental implant, there may be another option to consider — installing a crown. Like a filling, a crown preserves what remains of a natural tooth, but with better protection, life expectancy and appearance than a filling.
Known also as a cap, a crown completely covers or "caps" a natural tooth. They're produced in a variety of styles and materials to match the function and appearance of the capped tooth and adjacent teeth. Crowns made of porcelain are ideally suited for visible teeth because of their resemblance to tooth enamel. A less visible tooth that endures more biting force (like a back molar) may need the strength of a precious metal like gold or new-age porcelains that can also withstand significant biting forces. There are also hybrid crowns available that combine the strength of metal for biting surfaces and the life-like appearance of porcelain for the more visible areas of a tooth.
To prepare a tooth for a crown, we first remove any decayed structure and add bonding material to strengthen what remains. We then make a mold of the tooth and bite, which is typically sent to a dental technician as a guide for creating the permanent crown. Recent advances with digital technology have also made it possible to mill the permanent crown out of porcelain in the dental office while you wait.
After the permanent crown is received and permanently bonded to the tooth, you will have a protected and fully functional tooth. From this point on it's important for you to clean and care for it as you would any other tooth since the underlying tooth is still at risk for decay. The good news is your tooth has been saved with a bonus — a long-term solution that's also smile-transforming.
If you would like more information on crowns and other tooth restorations, please contact us or schedule an appointment for a consultation. You can also learn more about this topic by reading the Dear Doctor magazine article "Crowns & Bridgework."
By Dental Perfections
October 17, 2013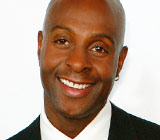 As a Pro Football Hall of Famer and first runner up on the hit television show Dancing with the Stars, Jerry Rice has a face and smile that truly has star quality. However, that was not always the case. During an interview with Dear Doctor magazine, the retired NFL pro discussed his good fortune to have had just a few minor dental injuries throughout his football career. He went on to say that his cosmetic dentist repaired several of his chipped teeth with full crowns. Rice now maintains his beautiful smile with routine cleanings and occasional tooth bleaching.
If you have chipped, broken or missing teeth, or are considering a smile makeover, we want to know exactly what you want to change about your smile, as the old adage is true: Beauty is in the eyes of the beholder. This is one reason why we feel that listening is one of the most important skills we can use during your private, smile-makeover consultation. We want to use this time to ensure we see what you see as attractive and vice versa so that together we can design a realistic, achievable blueprint for your dream smile.
For this reason, we have put together some questions you should ask yourself prior to your appointment:
What do you like and dislike about the color, size, shape and spacing of your teeth?
Do you like how much of your teeth show when you smile and when your lips are relaxed?
Are you happy with the amount of gum tissue that shows when you smile?
Do you prefer a "Hollywood smile" with perfectly aligned, bright white teeth, or do you prefer a more natural looking smile with slight color, shape and shade variations?
To learn more about obtaining the smile you want, continue reading the Dear Doctor magazine article "Great Expectations — Perceptions In Smile Design." Or you can contact us today to schedule an appointment so that we can conduct a thorough examination and discuss your cosmetic and restorative dentistry treatment goals. And if you want to read the entire feature article on Jerry Rice, continue reading "Jerry Rice — An Unbelievable Rise To NFL Stardom."