My Blog
Posts for tag: dental anxiety
By Dental Perfections, Inc.
October 30, 2017
If you have a fear of visiting the dentist find out how we can assuage those fears.
Having a phobia about the dentist may feel a bit embarrassing. Perhaps you've kept these fears hidden all your life; however, not getting the proper dental care you need could spell big trouble for your smile in the long run. We know that dental anxieties are real, which is why our Kapolei, HI, dentist Dr. Kern Agader is here to help make visiting the dentist a smoother experience.
Whether you need to get a routine teeth cleaning or you have to undergo more in-depth dental procedures, our Kapolei, HI, general dentist has just the thing to keep your fears in check. Sedation dentistry has been offering countless patients a way to relax in the dentist's chair while also getting the treatments they need to maintain good oral health.
Getting sedation dentistry is actually quite simple. First, we will go through your medical history to ensure that it's safe for you to undergo sedation dentistry. Once we have determined that you are a good candidate, we will determine the type and strength of medication we will use. The level of sedation that we decide upon will depend on several factors including your anxiety levels and the type of dental procedure you are getting.
You will take the oral medication right before your appointment. We may also decide whether more medication may be necessary once you make it to our office. Once the medication has taken full effect we will start the procedure. This sedation medication can make you drowsy and you may even cause you to fall asleep during your procedure.
Since this oral sedation medication is strong and the effects can last several hours it's important that you have someone who can drive you home and care for you until the effects wear off. Not only will sedation dentistry help make your dental treatment so much more relaxing but it can also allow us to more efficiently provide the dental care you need in just one visit rather than spacing it out between multiple appointments.
Here at Dental Perfections, we believe everyone should get the dental care they deserve. We are proud to serve the Kapolei, Makakilo and Ewa Beach, HI, areas. If you want to find out whether sedation dentistry is the right choice for you call our office today to learn more.
By Dental Perfections, Inc.
June 27, 2017
Do you dread dental appointments? Fear of dental work isn't unusual and can often be traced back to unpleasant experiences as a
child. Luckily, there's no need to put off dental work due to the fear, thanks to a variety of sedation options. Our dentist, Dr. Kern Agader in Kapolei, HI and serving the Makakilo and Ewa Beach, HI areas, discusses how sedation dentistry works.
A kindler, gentler approach
When you've had a painful experience in the past or the dental professionals you've encountered weren't sympathetic to your fears, it can be hard to force yourself to schedule a dental appointment. Although you know you need dental care, your fears may prevent you from keeping the appointment or making it from the waiting room to the treatment room.
Sedation dentistry was created to make dental exams and treatments much more comfortable for people who have dental phobias. Sedation eases your anxiety and fear, making it possible for you to tolerate dental visits. It also plays an important role in pain reduction, as anxiety can heighten pain.
Sedation options
Oral sedation is an excellent option if you find it difficult to even exit your car in the parking lot. You take the sedative 30 minutes to an hour before your appointment and are already calm and relaxed when you walk through the doors of our Ewa Beach area office. Because sedatives can make you drowsy, you'll need to make sure that you have transportation to and from your appointment, and will probably only have a hazy memory of your visit.
Interested in learning more about sedation dentistry? Call Dr. Kern Agader, your dentist in Kapolei, HI and serving the Makakilo and Ewa Beach, HI areas at (808) 674-8895.
By Dental Perfections, Inc.
May 29, 2015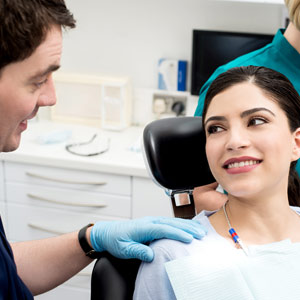 Although we've made great strides over the last century making dental visits more pleasant and comfortable, many people still feel a little apprehension about them at one time or another. For a few, though, this apprehension escalates into high anxiety — so high they may even avoid important dental treatment altogether.
If you have a significant phobia regarding dental visits and treatment, here are some things you can do to reduce your anxiety and feel more comfortable when you undergo treatment.
Let us know about your feelings of anxiety. We're conditioned by society to regard such fears as irrational or "silly," and so we tend to hide our negative emotions. Dentists, however, have been trained to work with fearful patients to reduce their anxiety levels. Being honest with us about your fears and nervousness is the first step to developing an anxiety-reducing strategy that will make your visits more pleasant.
Counteract bad experiences with good. For most people the fear they have during dental visits stems from earlier unpleasant experiences at the dentist. The fear can be so ingrained that simply trying to convince yourself or to be told "there's nothing to be afraid of" will have little to no effect. Instead, build a memory collection of positive and pleasant dental visit experiences that serve to counteract the unpleasant. To do this we might first get you acclimated to routine visits and then gradually transition to more invasive procedures. This may increase the normal time for dental treatment, but the reduction in anxiety is worth the extra time.
Consider sedation therapy. In addition to modifying your experiences, you may also benefit from sedation medications that reduce anxiety, especially in the early stages of treatment. Depending on your medical history and current status, we can prescribe a sedative for you to take an hour or so before your appointment to help you relax. We can also increase the level of anesthesia (from local to intravenous or gas anesthesia, for example) if your anxiety is especially acute.
Taking proactive steps to minimize dental visit anxiety will increase the probability that you'll obtain needed dental care. Your teeth and gums will be healthier for it.
If you would like more information on coping with dental visit anxiety, please contact us or schedule an appointment for a consultation. You can also learn more about this topic by reading the Dear Doctor magazine article "Overcoming Dental Fear & Anxiety."