My Blog
Posts for tag: root canal
By Dental Perfections, Inc.
May 21, 2018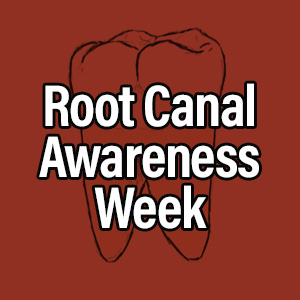 What's the first thing that comes to mind when you think of the month of May? Balmy breezes? Sweet-smelling flowers? How about root canal treatment?
The last item might seem out of place…but for the last ten years, Root Canal Awareness week has been celebrated in May. So let's take a closer look at this important—and often misunderstood—dental procedure.
What we commonly call a "root canal" is a special treatment that can save diseased teeth which might otherwise be lost. But the root canal itself is actually a set of hollow, branching passages deep inside the hard outer tissue of the tooth. The tiny "canals" contain the tooth's soft pulp, including nerves, blood vessels and connective tissue. These tissues help teeth grow during childhood but aren't necessary in healthy adult teeth—and, what's worse, they can become infected via deep cavity or a crack in the tooth's outer layers.
When bacteria infect the pulp tissue, the inflammation often causes intense discomfort. In time, the harmful microorganisms can also pass through the tooth's root and into the tissue of the jaw, resulting in a painful abscess. Eventually, if it isn't treated, the tooth will likely be lost.
Root canal treatment is designed to remove the infection, relieve the pain…and save the tooth. It is usually performed under anesthesia for your comfort. To begin the procedure, a small hole is made in the tooth's enamel to give access to the pulp; then, tiny instruments are used to remove the diseased tissue and disinfect the tooth. Finally, it is sealed up against re-infection. Following treatment, a cap (or crown) is often needed to restore the tooth's full function and appearance.
Despite some rumors you may have heard, root canal treatment is neither very painful nor likely to cause other health problems. So if you come across these discredited ideas, remember that dentists and dental specialists called endodontists perform some 25 million root canal procedures every year—and this treatment method  has been validated for decades.
Of course, like any medical procedure, root canal treatment is not 100% successful. While the procedure has a very high success rate, it's possible that additional treatments will be needed in some cases. However, the alternative—extracting the tooth—has similar potential downsides; plus a replacement tooth will be needed to avoid the health and lifestyle troubles caused by missing teeth. But one thing is certain: Ignoring disease in the tooth's soft tissues isn't a good move, because the infection won't go away on its own—and down the road it will only get worse.
So this May, while you're taking time to smell the flowers, spare a thought for the often-misunderstood root canal. If you'd like more information on root canal treatment, please contact us or schedule a consultation. You can also learn more by reading the Dear Doctor magazine articles "A Step-By-Step Guide to Root Canal Treatment" and "Root Canal Treatment: What You Need to Know."
By Dental Perfections
May 16, 2014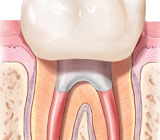 According to popular culture, a root canal treatment is one of life's most painful experiences. But popular culture is wrong — this common treatment doesn't cause pain, it relieves it. Knowing the facts will help alleviate any anxiety you may feel if you're scheduled to undergo the procedure.
A root canal treatment addresses a serious problem involving the pulp of a tooth that has become infected. The pulp is a system of blood vessels, nerves and connective tissues inside the tooth that helps the tooth maintain its vitality. It also contains a series of minute passageways known as root canals that interconnect with the body's nervous system.
The pulp may become infected for a number of reasons: tooth decay, gum disease, repetitive dental procedures, or traumatic tooth damage. Once the pulp becomes irreversibly damaged it must be completely removed from the tooth and the root canals filled and sealed in order to save the tooth.
We begin the procedure by numbing the affected tooth and surrounding tissues with local anesthesia and placing a dental dam (a thin sheet of rubber or vinyl) over the area to isolate the tooth and prevent the spread of infection to other oral tissues. We then drill a small hole in the top of the tooth to access the pulp chamber. Using special instruments, we then remove the infected or dead pulp tissue through the access hole and then wash and cleanse the root canals and pulp chamber with antiseptic and antibacterial solutions.
After additional preparation, we fill the root canals and pulp chamber with a filling especially designed for this kind of treatment, usually a rubber-like substance called gutta-percha that easily molds and compresses when heated. We then seal the access hole with a temporary filling (until a permanent crown can be fashioned) to prevent infection from reentering the pulp space. After the procedure, you may experience some minor discomfort easily managed with over-the-counter pain relievers.
You'll find the root canal treatment alleviates the symptoms prompted by the pulp infection, particularly acute pain. What's more, a successful root canal will have achieved something even more crucial to your health — it will give your tooth a second chance at survival.
If you would like more information on root canal treatment, please contact us or schedule an appointment for a consultation. You can also learn more about this topic by reading the Dear Doctor magazine article "A step-By-Step Guide to Root Canal Treatment."